Please scroll down to locate events and conferences.
Clicking on event/conference titles will link you to detailed event and registration information, online registration, and other resources and links such as overnight accommodations, speaker presentations, and handouts for recent and upcoming events.
Upcoming Conferences
December 9-10, 2021 | Franklin Marriott Cool Springs Hotel | Franklin, Tennessee
CLICK HERE to access the Call for Sponsors
CLICK HERE to access the general event information and registration details; additional sponsorship information links; and the Marriott Reservations link.
The navigational links at the top of the page guide visitors to the various segments and components of the event.
Partnerships

TAMHO is a long time lead-partner in Tennessee with Relias offering the behavioral health community special opportunities for effective and affordable online training.
Relias is the leader in online training and compliance solutions for the Health and Human Services market. Relias helps our member organizations address organizational and compliance challenges like staff development, business improvement, and job specific training. The Relias Learning Management System allows organizations to manage the entire training process on a user-friendly, flexible platform.
To ask questions, discover the discount that our members receive, and get a free online demonstration of the Relias Learning Management System, request a demo today. Just a few minutes will show you how an organizational subscription for Relias' web-based online learning program can save you time, money and help manage your organization's training requirements.
Recent and Past Conferences

September 29, 2021 | A Virtual Event

September 1, 2021 | 8:00am-12:30pm (Central) | A Virtual Event
September 2, 2021 | 10:30am-3:00pm (Central) | A Virtual Event
MAT - Medication Assisted Treatment
Harm Reduction Presentation- Dr. Lesly- Marie Buer and Genoa Clark, Choice Health Network
May 18, 2021 | 10:00am-1:00pm (Central) | A Virtual Event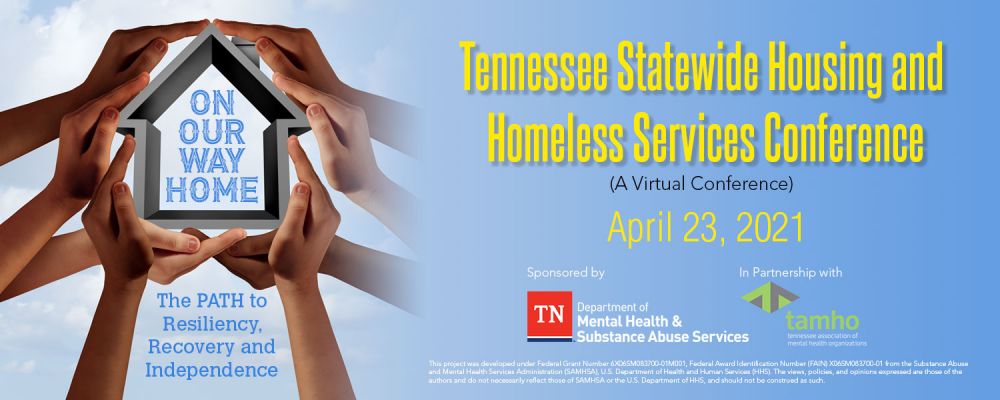 April 23, 2021 | A Virtual Event
December 10, 2020 | A Virtual Event
TAMHO Awards and Recognition Ceremony | 2020
December 10, 2020 | A Virtual Event
Wellness Through Employment
September 18, 2020 | A Virtual Conference Event | CLICK HERE FOR MORE INFO & REGISTRATION
Fueling the Flames of Recovery
September 14-15, 2020 | A Virtual Conference Event | CLICK HERE FOR MORE INFO & REGISTRATION
Making a Difference: Celebrating the Heroes of Today
August 27, 2020 | A Virtual Conference Event | CLICK HERE FOR POST-CONFERENCE ACCESS TO ON-DEMAND CONFERENCE SESSIONS, ATTENDANCE TRANSCRIPTS, SURVEYS & REGISTRATION THROUGH OCTOBER 11, 2020
December 12-13, 2019 | Franklin Marriott Cool Springs Hotel | Franklin, Tennessee
TAMHO Awards and Recognition Ceremony | 2019
December 12, 2019 | Franklin Marriott Cool Springs Hotel | Franklin, Tennessee
September 17-18, 2019 | Embassy Suites by Hilton Nashville-South/Cool Springs, Franklin, Tennessee
June 27, 2019 | Embassy Suites by Hilton Nashville-South/Cool Springs, Franklin, Tennessee
May 30, 2019 | Embassy Suites by Hilton Nashville-South/Cool Springs, Franklin, Tennessee
May 10, 2019 | Franklin Marriott Cool Springs Hotel | Franklin, Tennessee
March 8, 2019 | Virginia Way Conference Center | Tennessee Hospital Association, 5201 Virginia Way, Brentwood, Tennessee
CONNECTING 4 CHILDREN, YOUNG ADULTS, AND FAMILIES
SEPTEMBER 21-22,2018 (Friday/Saturday)
|

Embassy Suites by Hilton Nashville SE Murfreesboro | Murfreesboro, Tennessee

MOTIVATIONAL INTERVIEWING | A Tool for Enhancing Patient Engagement and Health Behavior Change
June 21, 2018 | Doubletree Hotel by Hilton, Jackson, Tennessee

June 22, 2018 | Drury Plaza Hotel, Franklin, Tennessee

June 29, 2018 | Cherokee Health Systems, Knoxville, Tennessee

June 27, 2018 | Embassy Suites by Hilton, Nashville-South/Cool Springs, Franklin, Tennessee
Basic Infection Control -- Assessing and Planning | Infectious Disease & Behavioral Health -- Eliminating Fear and Anxiety
April 17, 2018 | Doubletree Hotel by Hilton, Oak Ridge, Tennessee

June 4, 2018 | Doubletree Hotel by Hilton, Jackson, Tennessee

June 5, 2018 | Embassy Suites by Hilton, Nashville-South/Cool Springs, Franklin, Tennessee
March 21, 2018 | DoubleTree by Hilton Oak Ridge-Knoxville | Oak Ridge, Tennessee
March 22, 2018 | Henry Horton State Park | Chapel Hill, Tennessee
March 23, 2018 | Natchez Trace State Park | Wildersville, Tennessee
December 12-13, 2017 | Marriott Cool Springs Hotel | Franklin, Tennessee
Second Bi-Annual Conference
September 11-12, 2017 | Embassy Suites by Hilton, Nashville-South/Cool Springs, Franklin, Tennessee
Second Annual Conference
August 21-22, 2017 | Franklin Marriott Cool Springs Hotel, Franklin, Tennessee
Fifth Annual Conference
July 17-18, 2017 | Embassy Suites by Hilton, Murfreesboro, Tennessee
Second Annual Statewide Crisis Conference
June 16, 2017 | Nashville Music City Center | Nashville, Tennessee
May 9, 2017 | Boone Convocation Centre, Trevecca Nazarene University | Nashville, Tennessee
How Science Has Revolutionized the Understanding of Drug Addiction
March 20, 2017 | Embassy Suites Hotel | Franklin, Tennessee
December 13-14, 2016 | Marriott Cool Springs Hotel | Franklin, Tennessee
September 2, 2016 | Boone Business Center at Trevecca Nazarene University | 333 Murfreesboro Pike Nashville, TN 37210
September 15, 2016 | Carnegie Hotel & Spa | 1216 West State of Franklin Road Johnson City, TN 37604
September 15, 2016 | Case Management, Inc. | 3171 Directors Row, Memphis, Tennessee 38131
September 22-23, 2016 | EPIC Event Centre, Gallatin, Tennessee
July 11-12, 2016 | Embassy Suites by Hilton | Nashville-South/Cool Springs, Franklin, Tennessee
June 28, 2016 | One Century Plaza Conference Center | Nashville, Tennessee
May 10, 2016 | Embassy Suites by Hilton - Nashville South / Cool Springs | Franklin, Tennessee